Hello everyone!
This week's special guest on the blog is Swiss archviz studio nightnurse images. Earlier this year they were featured in our ArchViz Reel and for good reason – their renders are amazing, and they have been using Maxwell for 8 years now, since good old V1! We are sure you will enjoy their insight into the world of architectural visualization, as well as their brand new reel. Thank you, guys, it has been a pleasure!
The nightnurse Crew
We started working under the name nightnurse images in 2008. Christoph and Christopher had taken up jobs as architects after graduating from ETH Zurich and Lutz was still finishing his degree. Our first office was our living room in the apartment we shared at the time. All work was done alongside our daytime jobs and studies, so times were tough but also exciting. Work kept coming in and we were able to move to a proper office when we officially founded the company in 2010.
Today the nightnurse crew consists of a core team of 16 artists operating from Zurich plus a strong freelance 3D-modelling team of four based in Buenos Aires. A branch office in New York was founded in 2014 and is manned and run by long-time employee and now partner Brian.
Most of the team trained and worked as architects, industrial designers or game designers before turning to architectural visualization. Several were trained on the job at nightnurse images.
English, German and Swiss-German are our main languages. But we also have a smattering of Spanish, some Korean, Macedonian, Mandarin, Polish, Turkish and hints of Italian on board!

Architectural Visualization
Architectural visualization to us is the architectural photography of an idea.
Every architect knows "Case Study House #22", the famous house designed by Pierre Koenig, although few have actually been to Los Angeles to see it with their own eyes. In fact – what most people know of the project is one famous image, a photograph taken by Julius Shulmann in 1960. The iconic quality that the project retains to this day, is tightly connected to the architectural photography that made it known and contributed to its fame at the time.
We believe that if a concept has evolved so far that a plan can be drawn from it – then a single image can have the power to turn it into a famous icon. We also realize that powerful images require courage on all sides. At times we feel that architectural visualizations are watered down or cluttered up in order to accommodate multi-faceted requirements.
We appreciate that with Maxwell Render we have a tool at our disposal for a radically natural distribution of light and representation of materials.
So when powerful architectural photography of an idea is called for, we need to look no further.
Client Briefs
We talk to our prospective clients and try to get as much information from them as possible about the project, such as: "Who is the project for / how does the client imagine the mood / do the images have to fit in with a branding or marketing strategy / what is the look and feel we are aiming for?" Once we have the information, we draft a concept that meets all the requirements as beautifully as possible. We suggest a mood and supply the package to the client together with a proposal. They confirm, we spin into action and deliver.
Ok, to be honest, this is not usually what happens! Although it would be great for all projects to work like this, it is usually only animations and marketing projects that happen in this way.
The reality of still images and competition work is often more along the lines of:     "We need these views of this space by the end of this week, when can you start?"
And because showing our clients a good time is what we always aim for, it is how many projects in our office unfold.
Work process
If the data we receive is 2D, then the dedicated and wonderful modeling team in Buenos Aires turns it into a Rhino model. If it is 3D the Zurich or New York teams can take over directly.
We enter into a dialogue with the client which is continued over the course of the project – we present previews and intermediate steps and accept further input as we go along. During the course of a project we always aim to strike a balance between rendered and post-produced content. This is true of our still images in particular. Over time we have developed a liking for landscape architecture projects, where a larger amount of visible assets are hand-crafted from stock footage.
We feel that part of the reason why seamless blending of photographic and rendered features in our images works so well, is because of the natural appearance of light in Maxwell renderings. The rest is just hard work 😉
Software
We use Rhinoceros for almost all of our 3D-modeling.
For animation projects we use the Bongo plugin for Rhinoceros and occasional bits of 3D Studio Max
All texturing is done via J.D. Hill's Maxwell plugin for Rhino – and all rendering, be it for animations or stills, is done in-house with Maxwell Render.
Post-production is taken care of in Photoshop and After Effects if required.

Maxwell Render
While Christopher and Lutz started out in the world of rendering with a combination of SketchUp and Artlantis, it didn't take Christoph long to convince them to switch to Rhino and Maxwell back when they were studying architecture. This must have been Maxwell V1.5 back in 2007. By the time we accepted the first commercial jobs in 2008 and 2009, Maxwell had evolved to V2. And by the time nightnurse images was founded as a company in 2010, we were already able to look back on a few years of experience and a modest library of assets.
In a way we built the workflow of the company while we were already comfortable using Maxwell. So that was easy. Having said that – we would imagine it to be fairly easy to integrate in any company workflow. The first results are delivered quickly so that you can begin post production while the image continues to render. This continuous workflow to us seems like a natural process.
The so-called and much discussed speed issue never really concerned us.
Multilight
We use it a lot. Usually when we start out on a scene, we have the feature enabled. Then we fine-tune the light sources when the rendering is done (or running), go back to the plugin in Rhino and adjust the values in the light-emitting materials. The final render at full res is usually run with Multilight disabled.
We have also used it to animate different artificial lighting situations for a client.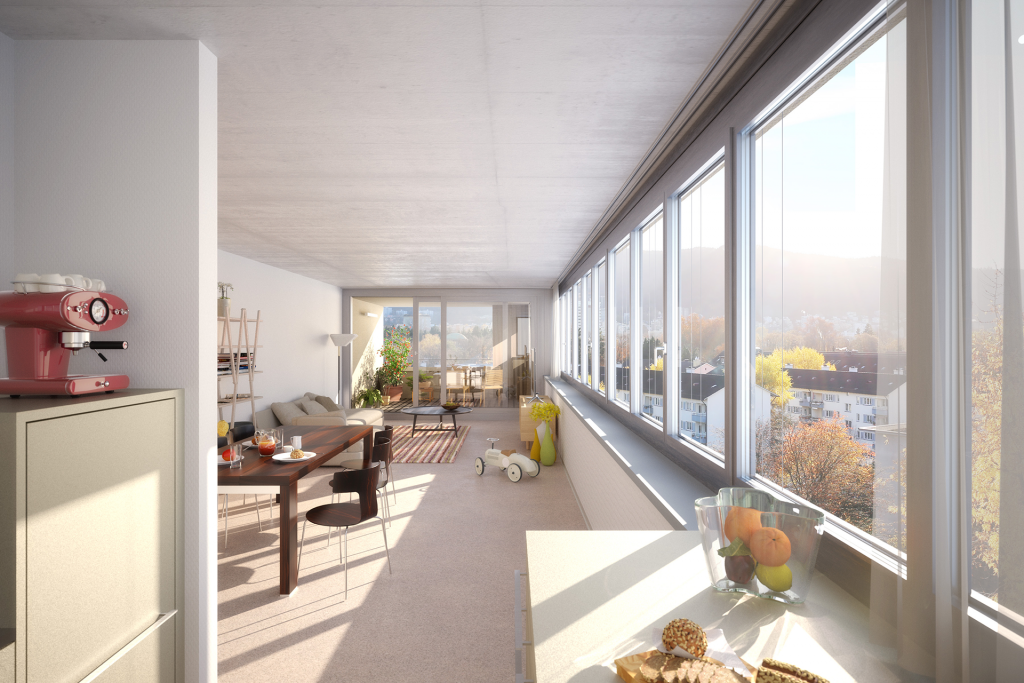 Favorite V3 (or V3.1 or V3.2) feature
The steady improvement of the Network Render System has been a great help to us – we run our own, moderately sized render farm on site (5 Xeon E5-2690 blades that make up about half of our computing resources) – and we are looking forward to what the future holds in this field.
Furthermore the "Custom Alpha" feature was a great addition in V3, as was the Custom Sun Radius. Volumetrics, Maxwell Sea, the new lenses… we love them all.
Post production?
Even though there is some postproduction on some of the scenes most of it is straight from the renderer. The moving clouds were done in post, for example, also some of the caustic reflections were pushed a bit, a little brightness and contrast here and there. Nothing game-changing. Most of what you see is what we saw on our screens the morning after launching the scene batch.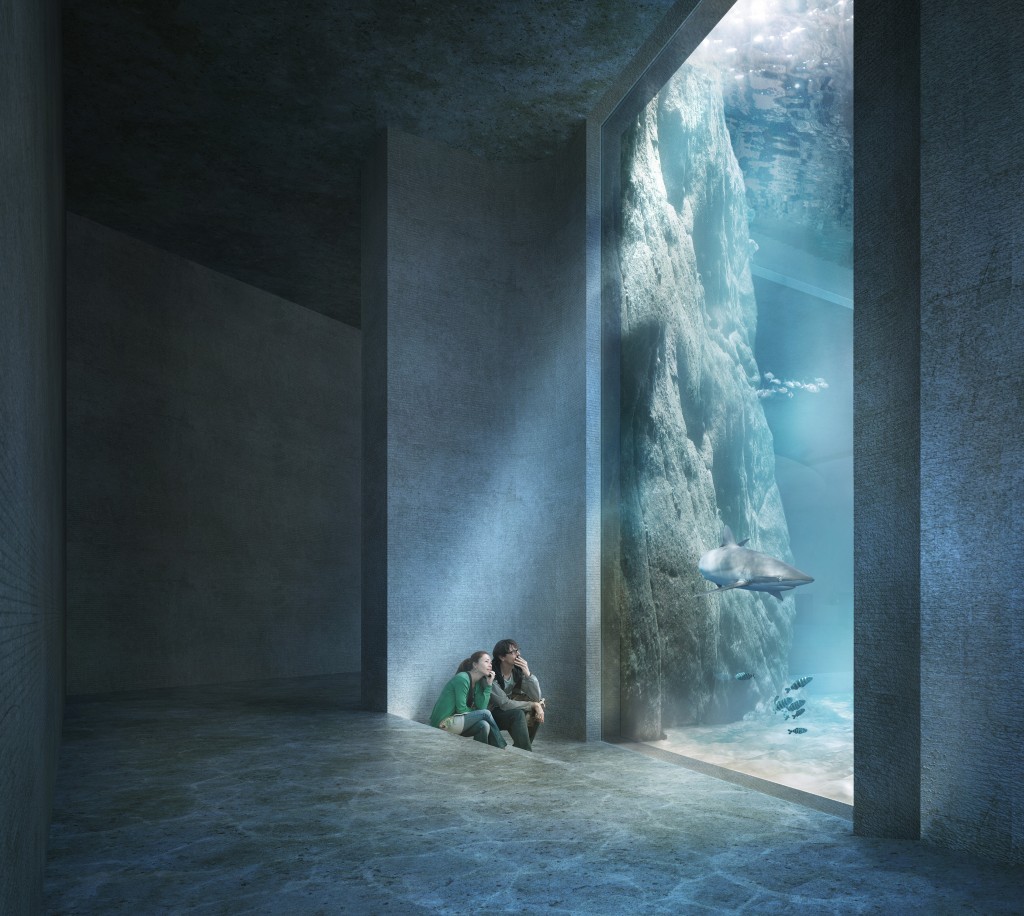 Favorite project of all time
Our favorite project of all time would have to be the "Ozeanium" by Zurich-based Boltshauser Architects – a gigantic aquarium project to be built in Basel, Switzerland (see above). We were on board from the competition phase and were thrilled that our images were published as part of the project that beat several fairly well known Swiss architects and international teams such as Zaha Hadid Architects. But the nicest thing about the project was that we were able to dive (no pun intended) into a world with a very specific and exciting mood. The blue shimmering twilight, the fish, the crabs – it was challenging and we enjoyed it a lot.
Only a few weeks ago we celebrated our fifth birthday as a company. The next five years have already gotten off to a good start and we very much look forward to making many more wonderful ideas and designs visible to everyone.
And here comes the reel 🙂