We love seeing what students do with their free educational licenses but we also love seeing how universities across the globe are implementing Maxwell technology into their curriculum! Which is why we decided to speak with Chris Perry, an associate professor of Media Arts and Sciences at Hampshire College, about how he's integrated Maxwell Render into his classroom. What he's doing at Hampshire is pretty great and the work his students are producing is very promising. In fact, all the images you will see in this post are from students, done during the Spring of 2015 at Hampshire College.
THE ARTIST/PROFESSOR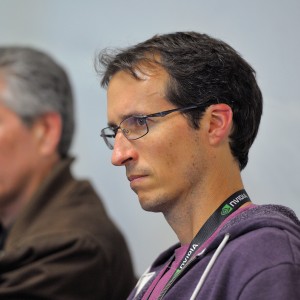 Chris Perry is a CG professional with over 20 years experience. In 1992 he started graduate school at the MIT Media Lab and did a thesis on CG fire synthesis. After MIT, he went to Rhythm & Hues Studios in LA, where he worked as both a software engineer and TD. Then he joined Pixar where he worked as a generalist TD and did more programming as well. After A Bug's Life he moved to Massachusetts and began teaching at Hampshire College. Although he comes from a technical background, his true love has always been film-making and it just so happened that he came of age at the same time CG was emerging. It became his medium of choice! He founded Bit Films in 2002, an agency specialized in producing animated short films and nurturing young talent in a creative, collaborative environment.
In 2014 Chris was awarded a Technical Achievement Award from the Academy of Motion Picture Arts and Sciences for his work on Voodoo back when he was working at Rhythm & Hues. Voodoo played a major role in films such as "Life of Pi" and Chris was played a major role in designing the software. He is one talented guy who is giving back to students in a major way and we were thrilled he had some time to answer our questions. Check out the full interview (and some great student work) below:
How did you get involved in teaching? Tell us a bit about the courses that you teach and what tools you use in the courses.
I was telecommuting to Pixar from Massachusetts in 1998 and I missed being immersed in a studio environment. So I talked to the local colleges and universities about teaching a night class for animators as a way to stay connected to that creative energy. When I approached Hampshire looking to teach one course, they told me they were hiring a visiting faculty member to replace a recent retirement. I was intrigued, so I decided to try out full-time teaching.
Hampshire turns out to be this incredibly unique college that doesn't have majors, doesn't have departments, and doesn't have grades. It is truly a student-driven academic program that really supports interdisciplinary and project-based learning, which are two things I've always held dear. I was lucky to find them and I can't imagine teaching anywhere else.
When and why did you personally start to use Maxwell Render? Have you tried other rendering solutions?
I've used a ton of different software over the last two decades, both custom and off-the-shelf. But Maxwell is the first physically-based renderer I've tried. I just started using it this Spring.
When did you start using Maxwell at the university and why? What has your experience been like until today?
We chose to explore Maxwell Render this year when you kindly made the software free for educational use. Thank you!I've been wanting to fold a physically-based renderer into our pipeline for a long time because it has always been hard for students of photography, film, and/or video to come into CG and make beautiful work. This has been one of the most frustrating things to grapple with as a teacher. I get students who are used to how light operates in the real world and who have studied composition and visual storytelling, and now they're ready and excited to explore virtual image making. You sit them down in front of the software… and it works counter to their intuitions. Reflections, refractions, shadows, volumetrics, occlusion – the things that they know and love from the real world don't come for free in most renderers.
Maxwell allows me to teach them a single material model and have them use camera parameters like f-stop, shutter speed, and ISO. I love that they can choose color temperatures and wattage for their lights, too! Then there's Multilight, which makes fine-tuning just so easy…
What is your classroom setup like? Do you have both Faculty (at the school) and Student (for at home and personal use) licenses?
Our setup includes student licenses served from a master server on campus. I'm using what I suppose is a faculty license at home so that I can prepare for class from there. We also have a "farm" based on Pixar's Tractor that includes 700+ Linux CPUs and 40+ Mac CPUs.
Was it difficult to add Maxwell to the course "pipeline/workflow"?
It was easy to add Maxwell to our Maya-based pipeline, for the most part. We encountered some difficulties specifically with volumetrics which didn't work inside Maya (please fix this!). Our TA Piper, who just graduated, figured out how to make a volumetric object in Studio, then export an MXS back into Maya so we could get volumetrics in FIRE. Otherwise, it was pretty smooth sailing.One student and I spent a lot of time writing Maxwell-specific spooling scripts this term so that we could resume rendering Maxwell scenes when we have idle cycles on our farm. We had existing spooling scripts for other renderers (and animation systems, like Blender, which we also use), but the whole re-entrant rendering idea that Maxwell permits was very new to us, and required us to do a little re-engineering to make work. I'm pleased to report that it does, and it's a great option to have!
What is the students' impression of Maxwell?
They enjoyed it quite a bit. The "ooohs" and "aahs" when I showcased all of the intuitive controls and incredible realism were reward enough after one term of teaching them an introductory class with a different, and much less intuitive, renderer. It helped elevate the quality of the work, overall.
Can you tell us about a specific project that you and/or the students worked on which involved rendering with Maxwell?
Gladly! The aforementioned TA, Piper, created a ruined cathedral environment for his senior thesis project. He used Maxwell (and SimuLens) for the whole thing, which ended up being a four-plus minute HD tour of this completely invented space. I've included a bunch of stills from Piper's film and it's available to watch online as well. Piper's thesis film: https://vimeo.com/127313695