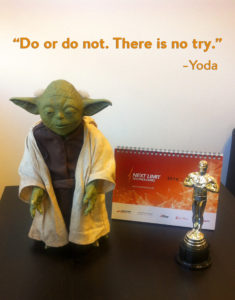 Hi everyone,
We are back with a somewhat different post – a behind-the-scenes of our Black Friday 2017 promotional campaign.
The Background
There is no secret that many of you are not just super talented CG artists, architects, product designers, but also big Star Wars fans. And so are we! You have probably noticed throughout the years that Yoda is sitting at our reception right next to the Next Limit Oscar. The movies have inspired Next Limit founders Víctor González and Ignacio Vargas and many of the brilliant minds behind the software.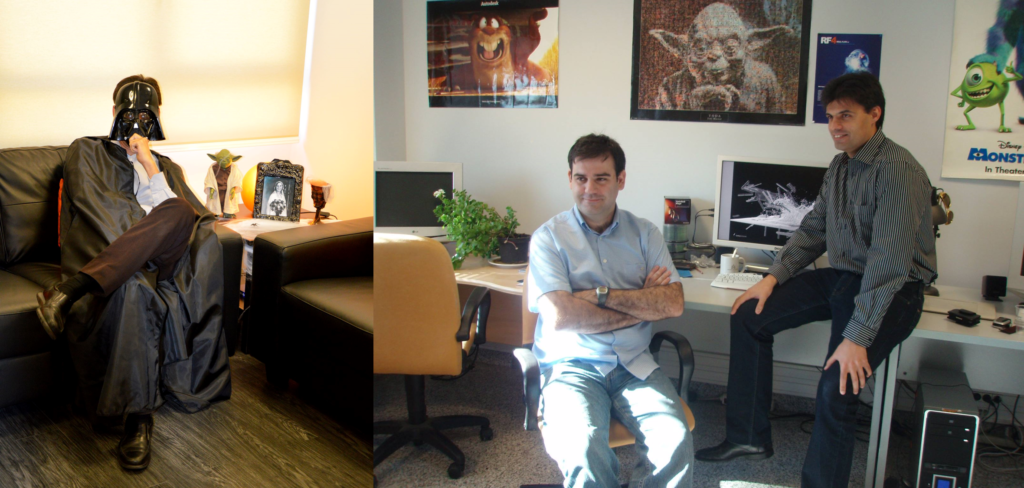 The idea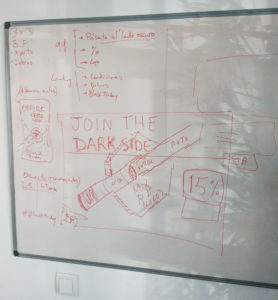 And so this autumn we were getting excited about The Last Jedi soon to be shown in theaters. At the same time, we were getting ready for a massive Black Friday Promo, never seen before in the history of Next Limit – 50% OFF. We wanted to make something big and memorable and of course, have fun with it 😉 With the new movie coming out, we decided to mix business and pleasure and design a promotional campaign with a Star Wars theme. Easier said than done since brainstorming is like going out for drinks with colleagues, ideas flow, people laugh and you can almost hear the glasses clink. After coming up with the theme, we were faced with the challenge of finding the right campaign image – Star Wars related and never used before.
The Image
How lucky are we to have such an inspiring group of Maxwell Xperts! One of them is Russian artist currently working in Singapur – Artem (Tema) Paramonov, who is both a Maxwell and RealFlow user. Tema had recently shared some WIPs from a personal project he was working on, namely the lightsabers of Luke Skywalker, Darth Vader, and Yoda. A match made in heaven! We contacted his asking permission to use his work with associated credits in the campaign and he got as excited as we were. After Tema said "Yes" we developed the idea further deciding to invite users to join the Dark Side only for Black Friday and change Luke's lightsaber into Darth Vader's one with a slider. We wanted you to interact with the image and enjoy both renders created by Tema.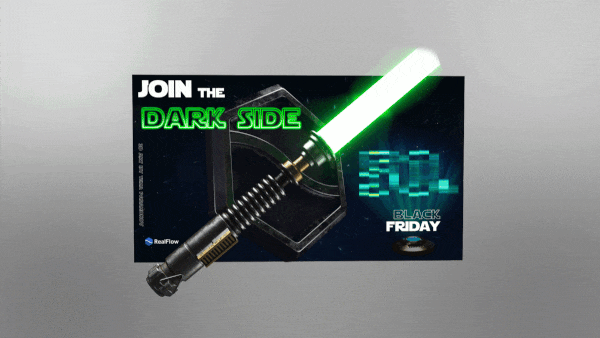 The Challenge
The renders were pretty much ready with Maxwell, but we still required Tema's help for them to fit in our Black Friday vision. For example, brand new hexagon shield logos for each product were designed especially for the campaign to be placed in the image background. Then we composed everything in-house and made it slide 🙂 For our reseller network we additionally adapted the visuals in their local languages from Chinese to Hungarian (see blinking image on the right :P).
What's Next?
The Black Friday Promo is over and so will be 2017 in a few days. We hope you got your Maxwell 4 license and you have very happy rendering! Stay tuned on the blog, since in one of our next blogposts, Tema will tell us more about creating these impressive lightsabers and he will also share some goodies with you.
We would like to thank Tema once again for being an amazing Maxwell Xpert and a friend, and we wish you all a Merry Christmas and a fun and successful 2018!